GFO Marine Shaft Packing for Power and Sail boats
Are you tired of climbing into your wet bilge to tighten your shaft stuffing box?
Is the drive bilge always wet ?     Stop it now!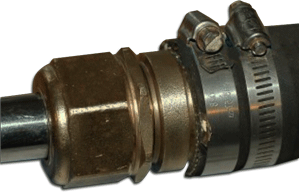 GFO Marine Shaft Packing is a braided propeller and rudder fiber packing that you can install and forget about. After 15 years of successfully handling demanding industrial pump applications, it's now proving itself in the marine field, too. It's already being used by the US Navy and Coast Guard and many commercial work and fishing fleets. And, it's approved by the American Bureau of Shipping.
GFO Is Easy To Install
No grease, no mess. Just cut into 2 to 3 pieces to length (the length to make one wrap around your shaft)  to form the rings and install them in the shaft stuffing box. Make maybe one adjustment to the packing gland following a short run-in and never tinker with the stuffing box again! You'll rarely need to make any adjustments, and the Gore dripless packing will last for years.
GFO Won't Damage Shafts
GFO fiber packing has minimal thermal expansion and high abrasion resistance – it never gets hard and abrasive, even when mud or sand-laden water gets into the prop shaft stuffing box. So extensive shaft scoring and premature packing failure are things of the past. And, this marine shaft packing can withstand high shaft speeds without being consumed or destroyed.
GFO Allows Bilges To Stay Dry
Since GFO fiber dripless packing is four times more thermally conductive than flax, it needs virtually no sea water for lubrication or cooling. And, because it doesn't swell or shrink, leakage is controlled and kept to an absolute minimum. In fact, you'll notice that your bilge is dry and cleaner, because this remarkable packing gland hardly ever drips. It's so conformable and flexible that it will solve most perpetual problem leakers, too.