GFO Marine Shaft Packing Product Details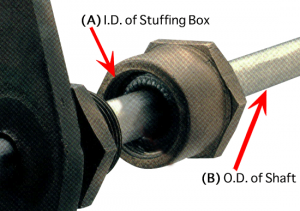 How to determine packing size.
It is easy to determine which size GFO fiber packing you need. Measure the inside diameter of the stuffing box (A) and subtract the outside diameter of the driveshaft (B),  then divide the result by 2.
Typical shaft stuffing box (gland shown open) and drive shaft (View Image)
Available sizes
1/8″, 3/16″, 1/4″, 5/16″, 3/8″ available in 24 inch packs.
1/2″, 9/16″, 5/8″available in 30 inch packages –
These sizes accommodate most power and sail boats. Other sizes available on special order.
GFO by the Pound

| | | | | | | | | | | |
| --- | --- | --- | --- | --- | --- | --- | --- | --- | --- | --- |
| Size | 1/4″ | 5/16″ | 3/8″ | 7/16″ | 1/2″ | 9/16 | 5/8″ | 3/4″ | 7/8″ | 1″ |
| feet/lb. | 21 | 14 | 10 | 7 | 5.7 | 4.5 | 3.5 | 2.5 | 1.9 | 1.5 |
| lbs./box | 1 | 1 | 2 | 2 | 5 | 5 | 5 | 10 | 10 | 10 |
GFO Shaft Packing Key Features
30 years of proven performance
Name printed on the packing
Widest range of applications
Long lasting
Does not harden
Minimum shaft damage
Manufacturer's reputation for highest quality fluid sealing products
GFO Shaft Packing Key Benefits
Confidence that the product will work every time
Easy to install & to remove
Reduces inventory levels by consolidating packing needs
Saves money & labor
Minimum downtime from re-packing pumps or resurfacing shafts